Samuel Fuller
Director / Screenwriter / Producer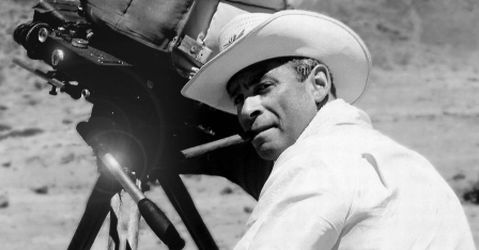 1912 - 1997
Born August 12, Worcester, Massachusetts, USA
Key Production Country: USA
Key Genres: War Drama, War, Drama, Western, Thriller, Psychological Drama, Combat Films, Thriller, Romance
Key Collaborators: Paul Dubov (Character Player), Gene Evans (Leading Player), Paul Dunlap (Composer), Joseph Biroc (Cinematographer), Jerome Thoms (Editor), Gene Fowler Jr. (Editor), Harry Sukman (Composer), Lyle Wheeler (Production Designer), Gerald Milton (Character Player), Joseph MacDonald (Cinematographer)
---
Highly Recommended: Pickup on South Street (1953)*#, House of Bamboo (1955), Forty Guns (1957)

*

, The Crimson Kimono (1959)#, Underworld, U.S.A. (1961)#, Shock Corridor (1963)*, The Naked Kiss (1964)#, White Dog (1982)
Recommended: I Shot Jesse James (1949), The Steel Helmet (1951), The Big Red One (1980)

*
Worth a Look: The Baron of Arizona (1950), Fixed Bayonets! (1951), Park Row (1952), Hell and High Water (1954), China Gate (1957)**, Run of the Arrow (1957), Verboten! (1959), Merrill's Marauders (1962)
Approach with Caution: Dead Pigeon on Beethoven Street (1972)
* Listed in TSPDT's 1,000 Greatest Films section; # Listed in TSPDT's
250 Quintessential Noir Films section; ** Listed in TSPDT's Ain't Nobody's Blues But My Own section.
---
Links: [ Amazon ] [ IMDB ] [ TCMDB ] [ All-Movie Guide ] [ Film Reference ] [ Sam Fuller Article by Gerald Peary ] [ Images Journal Noir Interview ] [ Images Journal Article ] [ Wikipedia ] [ Senses of Cinema Article (Tag Gallagher) ] [ Guardian Article by Wim Wenders (2007) ] [ Books and Writers Biography ] [ Criterion Collection Article (2008)

]
Books: [ A Third Face: My Tale of Writing, Fighting and Filmmaking ] [ The Films of Samuel Fuller: If You Die, I'll Kill You ] [ Sam Fuller: Film is a Battleground ]




"Fuller is an authentic American primitive whose works have to be seen to be understood. Seen, not heard or synopsized... Fuller's ideas are undoubtedly too broad and over-simplified for any serious analysis, but it is the artistic force with which his ideas are expressed that makes his career so fascinating to critics who can rise above their political prejudices... It is time the cinema followed the other arts in honoring its primitives. Fuller belongs to the cinema, and not to literature and sociology." - Andrew Sarris (The American Cinema, 1968)
"Fuller is both a director of rapid, abrupt, shocking montage, as in the alternating close-ups of robber and victim in I Shot Jesse James, and a director who uses extremely long takes incorporating a complex mix of camera movement and character action. Fuller's style is the opposite of graceful; his style seems to suggest that in a world where grace provides little redemption, its utilization would be a kind of lie." - Dana B. Polan (The St. James Film Directors Encyclopedia, 1998)
"Often using a moving camera as a blunt instrument, Sam Fuller created direct and raw films that reflect his experience in tabloid journalism and in the U.S. army... It is Fuller's war films that are his greatest achievement. The Steel Helmet (1950) ands Fixed Bayonets (1951) were the first of his taut, tough, and truthful war films, which followed a group of multi-racial Americans fighting to survive." - Ronald Bergan (Film - Eyewitness Companions, 2006)
"Another great director of low-budget films, Fuller writes and lenses about "all the emotions" in a stark, raw manner which sometimes reflects his penchant for realism and patriotism." - William R. Meyer (The Film Buff's Catalog, 1978)
""If you don't like Sam Fuller, you just don't like cinema." - Martin Scorsese
"

I researched every milieu. If I were to do a movie tomorrow about a fashion designer, say, I would have to spend some time to find out what language they spoke. Because I would never be satisfied with my dialogue, I want something that gives you the color of that character right away.

" - Samuel Fuller
"

Movement should be a counter, whether in action scenes or dialogue or whatever. It counters where your eye is going. This style thing, for me it's all fitted to the action, to the script, to the characters.

" - Samuel Fuller
Please note that the rating given for this director (see top-right) is based only on the films we have seen (listed above). Films by this director that we haven't seen include
Shark! (1969) and Street of No Return (1989).
9-
"A former crime reporter, he envisaged his viscerally dynamic camerawork and hard-hitting stories in terms of cinematic headlines... Though seldom subtle, Fuller's films were dramatically powerful and, thanks to their dark ironies, complex in depicting America as a melting pot constantly boiling over into insane, violent aggression. In particular, few film-makers have been so brutally explicit about racial tensions... In short, Fuller's sensibility was inherently cinematic, and the meaning of his work is embodied in its raw confrontational style." - Geoff Andrew, The Director's Vision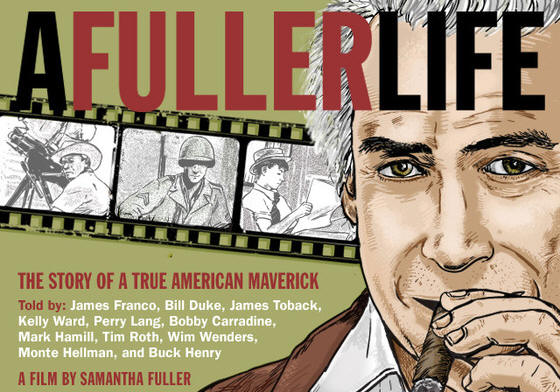 ●
A Fuller Life: The true story of a true American maverick. A film by Samantha Fuller. Details here.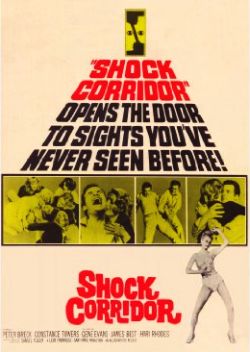 ●
Top 250 Directors
● Key Noir Filmmaker
●

The Far Side of Paradise
● 100 Essential Directors (Pop Matters)
● One of the twelve greatest living narrative filmmakers - Jonathan Rosenbaum (Placing Movies: The Practice of Film Criticism, 1993)
● 501 Movie Directors: A Comprehensive Guide to the Greatest Filmmakers
See Also
● Robert Aldrich
● Budd Boetticher
● Richard Brooks
● André De Toth
● Jean-Luc Godard
● Walter Hill
● John Huston
● Anatole Litvak
● Joseph H. Lewis
● Anthony Mann
● Nicholas Ray
● Don Siegel
Samuel Fuller's Favourites
Battleship Potemkin (1925) Sergei Eisenstein, Brief Encounter (1945) David Lean, Citizen Kane (1941) Orson Welles, La Dolce vita (1960) Federico Fellini, The 400 Blows (1959) François Truffaut, The Gold Rush (1925) Charles Chaplin, The Informer (1935) John Ford, The Last Emperor (1987) Bernardo Bertolucci, Pierrot le fou (1965) Jean-Luc Godard, Rashomon (1950) Akira Kurosawa. Source: Time Out (1995)