Robert Aldrich
Director / Producer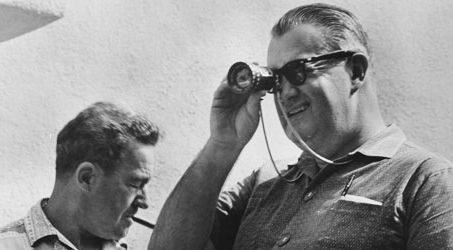 1918 - 1983
Born August 9, Cranston Rhode Island, USA
Key Production Country: USA
Key Genres: Action, Thriller, Drama, Western, Crime, War, Melodrama
Key Collaborators: Michael Luciano (Editor), Frank DeVol (Composer), Joseph Biroc (Cinematographer), William Glasgow (Production Designer), Ernest Borgnine (Leading Character Player), Lukas Heller (Screenwriter), Richard Jaeckel (Leading Character Player), Ernest Laszlo (Cinematographer), Wesley Addy (Character Player), Burt Lancaster (Leading Player)
---
Highly Recommended: The Big Knife (1955)#, Kiss Me Deadly (1955)*#, Autumn Leaves (1956)
Recommended: Apache (1954), Vera Cruz (1954), Attack (1956), The Last Sunset (1961), What Ever Happened to Baby Jane? (1962), Hush... Hush, Sweet Charlotte (1965), Flight of the Phoenix (1966), The Dirty Dozen (1967), Ulzana's Raid (1972), Twilight's Last Gleaming (1977)
Worth a Look: World for Ransom (1954)#, The Killing of Sister George (1968), The Legend of Lylah Clare (1968), All the Marbles (1981), The Grissom Gang (1971), Emperor of the North (1973), The Longest Yard (1974)
Duds: The Angry Hills (1959), Hustle (1975), The Choirboys (1977)
* Listed in TSPDT's 1,000 Greatest Films section; # Listed in TSPDT's
250 Quintessential Noir Films section.
---
Links: [ Amazon ] [ IMDB ] [ TCMDB ] [ All-Movie Guide ] [ Senses of Cinema: Great Directors ] [ Film Reference ] [ Screening the Past Article #1 ] [ Screening the Past Article #2 ] [ Classic Film and Television Home Page ] [ Guardian Article (2006) ]
Books: [ Who the Devil Made It: Conversations with Robert Aldrich, George Cukor... ] [ Whatever Happened to Robert Aldrich?: His Life and His Films ] [ Robert Aldrich: Interviews ] [ Body and Soul: The Cinematic Vision of Robert Aldrich ] [ The Films and Career of Robert Aldrich ]




"At his best, Aldrich employed vicious irony, muscular acting and vivid, sophisticated compositions to evoke a world divided by self-interest and forever on the verge of violent anarchy. At the same time those ingredients, when applied to an ill-focused script, led to overstatement and vulgarity." - Geoff Andrew (The Film Handbook, 1989)
"While Stanley Kubrick (whose 1950s films bear striking stylistic and thematic similarities to those of Aldrich) found it necessary to retreat to England, reducing his output to two or three films a decade, Aldrich chose to fight it out in Hollywood, where his capacity for money-making allowed him the space to vent his own personal anger at the compromises we all must make." - Ed Lowry (International Dictionary of Films and Filmmakers, 1991)
"The decline in Aldrich, in the sixties especially, was a sad thing to behold. Distinct talent is no sure defense against the pressures of vulgarization and commerce, to say nothing of the talent's urge towards sensationalism." - David Thomson (The New Biographical Dictionary of Film, 2002)
"Started out directing tough genre films (Vera Cruz, Kiss Me Deadly), which grew increasingly graphic and satirical with time (What Ever Happened to Baby Jane?, Ulzana's Raid)." - William R. Meyer (The Film Buff's Catalog, 1978)
"

I don't think violence on film breeds violence in life. Violence in life breeds violence in films.

" - Robert Aldrich
Please note that the rating given for this director (see top-right) is based only on the films we have seen (listed above). Films by this director that we haven't seen include Big Leaguer (1953), Ten Seconds to Hell (1959), Four for Texas (1963), Sodom and Gomorrah (1963), Too Late the Hero (1970), and The Frisco Kid (1979).