Anthony Mann
Director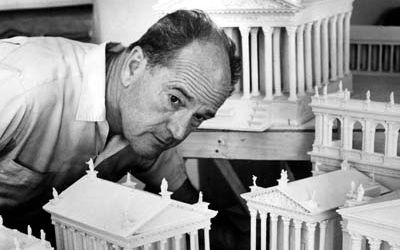 1906 - 1967
Born June 30, San Diego, California, USA
Key Production Country: USA
Key Genres: Western, Drama, Psychological Western, Film Noir, Thriller, Crime, Historical Film, Period Film, Mystery, War Drama, War, Crime Thriller
Key Collaborators: James Stewart (Leading Player), Philip Yordan (Screenwriter), Aaron Rosenberg (Producer), Jay C. Flippen (Leading Character Player), William Daniels (Cinematographer), John Alton (Cinematographer), Cedric Gibbons (Production Designer), Harry Morgan (Character Player), John C. Higgins (Screenwriter), Russell Schoengarth (Editor)
---
Highly Recommended: T-Men (1947)#, Raw Deal (1948)#, The Naked Spur (1953)*, Thunder Bay (1953), Man of the West (1958)*, El Cid (1961)
Recommended: Strange Impersonation (1946), Desperate (1947)#, Railroaded (1947)#, Reign of Terror (1949), The Furies (1950), Winchester '73 (1950)*, Devil's Doorway (1950), Side Street (1950)#, Bend of the River (1952)*, The Glenn Miller Story (1954), The Man from Laramie (1955)*, The Far Country (1955)*, Men in War (1957), The Fall of the Roman Empire (1964)
Worth a Look: The Great Flamarion (1945), Border Incident (1949)#, The Tall Target (1951), The Tin Star (1957), The Heroes of Telemark (1965)
Approach with Caution: Two O'Clock Courage (1945), The Bamboo Blonde (1946), Strategic Air Command (1955), The Last Frontier (1956), God's Little Acre (1958)
* Listed in TSPDT's 1,000 Greatest Films section; # Listed in TSPDT's
250 Quintessential Noir Films section.
---
Links: [ Amazon ] [ IMDB ] [ TCMDB ] [ All-Movie Guide ] [ Senses of Cinema: Great Directors ] [ Film Reference ] [ Time Feature: The Best Mann (2006) ] [ Wikipedia ] [ Derek Malcolm's Century of Films: "Man of the West" ] [ The Films of Anthony Mann ] [ Images Journal Article (2002) ] [ Bright Lights Film Journal Article (2012) ] [ Bright Lights Film Journal Article #2 (2012)

]
Books: [ Anthony Mann ]


| | | |
| --- | --- | --- |
| | | |
| | "Anthony Mann (not to be confused with dreary Daniel and Delbert) directed action movies with a kind of tough-guy authority that never found favor among the more cultivated critics of the medium... His Westerns are distinguished by some of the most brilliant photography of exteriors in the history of the American cinema, and yet it is impossible to detect a consistent thematic pattern in his work." - Andrew Sarris (The American Cinema, 1968) | |
| | | |
| | "Though he incidentally directed films in various genres (the musical, the war movie, the spy drama), Anthony Mann's career falls into three clearly marked phases: the early period of low-budget, B-feature films noir; the central, most celebrated period of westerns, mostly with James Stewart; and his involvement in the epic (with Samuel Bronston as producer). All three periods produced distinguished work, but it is the body of work from the middle period in which Mann's achievement is most consistent and on which his reputation largely depends." - Robin Wood (International Dictionary of Films and Filmmakers, 1991) | |
| | | |
| | "After making a number of tense, claustrophobic noir thrillers in the 40s, Mann embarked on a series of Westerns notable for their symbolic, expressive use of the rugged American landscape and their psychological complexity... Built around honour, betrayal and vengeance, Mann's films (notably The Man from Laramie and Man of the West) often featured oppressive father-figures; scenes of violence might resonate with Freudian overtones of patricide, castration and humiliation. " - Geoff Andrew (The Director's Vision, 1999) | |
| | | |
| | "Primarily known for his Westerns, Mann portrayed a world of violence against some of the most striking natural vistas in cinema history. His crime films are gritty and real, and all his work reflects an exploration of the complex psychology of the human soul." - William R. Meyer (The Film Buff's Catalog, 1978) | |
| | | |
Please note that the rating given for this director (see top-right) is based only on the films we have seen (listed above). Films by this director that we haven't seen include Dr. Broadway (1942), Strangers in the Night (1944), Sing Your Way Home (1945), Serenade (1956), Cimarron (1960), and A Dandy in Aspic (1968).
9
"Although Anthony Mannís reputation as a director rests primarily upon his turbulent, complex 1950s westerns starring James Stewart, his style coalesced in the 1940s with a series of important films noirs. These films, with their disorienting, often baroque cinematography, malevolent environment, and violent, tortured characters, presage his later work. His Technicolor westerns of the 1950s and historical epics of the 1960s were shot with a broader palate and a resonant sense of landscape, and retreated farther into history, but they share with the noirs an entrapping environment populated by embattled, anguished men." - William Luhr, Schirmer Encyclopedia of Film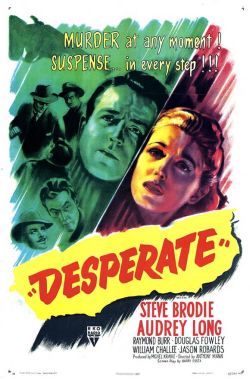 ●
Top 250 Directors
●
Key Noir Filmmaker
●
The Far Side of Paradise
●
501 Movie Directors: A Comprehensive Guide to the Greatest Filmmakers
See Also
●
Robert Aldrich
●
Budd Boetticher
●
Delmer Daves
●
John Ford
●
Henry Hathaway
●
Fritz Lang
●
Sergio Leone
●
Joseph H. Lewis
●
Robert Siodmak
● John Sturges
●
Raoul Walsh
●
William Wellman