Charles Chaplin
Director / Screenwriter / Producer / Actor / Editor / Composer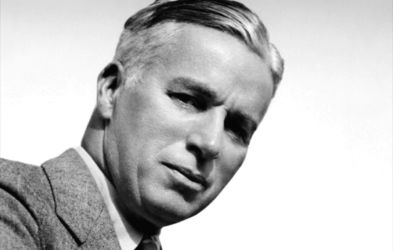 1889 - 1977
Born April 16, Walworth, London, England
Key Production Country: USA
Key Genres: Comedy, Slapstick, Short Film, Melodrama, Comedy Drama, Romantic Comedy, Romance
Key Collaborators: Roland Totheroh (Cinematographer), Henry Bergman (Leading Character Player), Edna Purviance (Leading Player), Albert Austin (Leading Character Player), Charles D. Hall (Production Designer), John Rand (Character Player), Eric Campbell (Leading Character Player), Allan Garcia (Leading Character Player), Syd Chaplin (Leading Player), Henry P. Caulfield (Producer)
---
Highly Recommended: The Circus (1928)*, Modern Times (1936)*, The Great Dictator (1940)*, Monsieur Verdoux (1947)*
Recommended: Easy Street (1917), The Immigrant (1917), Shoulder Arms (1918), The Kid (1921)*, The Pilgrim (1923), A Woman of Paris (1923)*, The Gold Rush (1925)*, City Lights (1931)*
Worth a Look: One A.M. (1916), The Pawnshop (1916), The Cure (1917), A Dog's Life (1918), Limelight (1952)*
Approach with Caution: His New Job (1915), A King in New York (1957), A Countess From Hong Kong (1967)
* Listed in TSPDT's 1,000 Greatest Films section.
---
Links: [ Amazon ] [ IMDB ] [ TCMDB ] [ All-Movie Guide ] [ Senses of Cinema: Great Directors ] [ Film Reference ] [ Charlie Chaplin.com ] [ The Time 100 ] [ American Masters ] [ Clown Ministry ] [ Charlie Chaplin UK ] [ Hollywood Renegades ] [ The Golden Years' Page ] [ Off Screen Article (2006) ] [ Moving Image Source Article (2010)

]
Books: [ My Autobiography ] [ Chaplin and American Culture ] [ Charles Chaplin ] [ Charlie Chaplin: Interviews ] [ Charles Chaplin: An Appreciation ] [ My Father, Charlie Chaplin ]




"Best known as the 'the little tramp', he drew on his childhood experiences of poverty and loss to depict a quintessential underdog, a rather exquisite, sentimentalised version of the Common Man eternally at odds with the strong and the rich, the powerful and unjust...In 1972 he received an honorary Oscar, followed three years later by a knighthood. While the awards were in recognition of his genius, he should be remembered less as a great film-maker than as the man who was the first real icon of cinema. Chaplin's importance lies in the way he embodied the movies' power to touch the world." - Geoff Andrew (The Film Handbook, 1989)
"Chaplin, British-born, and raised and Hollywood-sharpened, offered the world an image - and was its own best salesman. As an actual film director, he was not of the first rank, but as an ideas man and a showcaser of his own talents, he was almost without peer." - David Quinlan (Quinlan's Film Directors, 1999)
"The apparent simplicity of Chaplin's art should never be confused with lack of technique. For Chaplin, his other self on the screen has always been the supreme object of contemplation, and the style that logically followed from this assumption represents the antithesis to Eisenstein's early formulations on montage." - Andrew Sarris (The American Cinema, 1968)
"Despite being a brilliant comic actor, Chaplin directed with a simple, sometimes awkward style. Yet his career is loaded with classics which are often as sentimental as they are funny. Chaplin's social conscience, first revealed in the pathetic wanderings of the Little Tramp, blossomed in the 1930s and 40s." - William R. Meyer (The Film Buff's Catalog, 1978)
"

All my pictures are built around the idea of getting in trouble and so giving me the chance to be desperately serious in my attempt to appear as a normal little gentleman.

" - Charles Chaplin
"

I do not have much patience with a thing of beauty that must be explained to be understood. If it does need additional interpretation by someone other than the creator, then I question whether it has fulfilled its purpose.

" - Charles Chaplin
Please note that the rating given for this director (see top-right) is based only on the films we have seen (listed above). Films by this director that we haven't seen include Carmen (1916).