The 21st Century's Most Acclaimed Films:
Introduction
,
Films (1000-251)
,
Films (250-151)
,
Films (150-51)
,
Films (50-1)
,
Full List (Sortable Table)
,
Full List (Ranking History)
,
Ex-1,000
,
Alternative Titles
,
Sources/Critics
,
Top 50 Directors
,
Links
IT'S MY LIST, AND I'LL CRY IF I WANT TO…

INTRODUCTION to
The 21st Century's Most Acclaimed Films (including films from 2000!)
Current Version: March 2016 (9th edition)
Bill Georgaris
Hello again list people, and thanks for coming back.
First-off, on a slightly curmudgeonly note, for those that continue to lament the fact that the
21st Century's Most Acclaimed Films
incorrectly includes films from 2000
(including the number one ranked film) then the above title of this year's introduction is my last remark on the matter.
The
21st Century's Most Acclaimed Films
is an annually updated compendium of end-of-year, end-of-decade, all-time and miscellaneous lists and ballots. This is the ninth edition. It contains, based on
TSPDT's
calculations, the 1,000 leading films (critically speaking) from 2000 to 2015. It has been compiled from the multiple lists/ballots of 2,346
critics/sources
. This year, a total of 69 films came and went, including 41 new entrants from 2014 and 2015.
⊡
Download the list of the 21st Century's most acclaimed 1,000 films
⊡
Download the starting list of 4.078 films
A list of 1,000 films from just the last 16 years may seem like overkill, but my main reasoning (beginning last year) behind expanding the list from 250 to 1,000 was to give readers the opportunity to decide for themselves how much cinema from 2000 onwards is deemed worthy of attention. For some, the top 250 is enough and will remain the focus. For others, perhaps those who have seen all or most of the top 250, an extension of the list may prove useful in terms of your ongoing 21st century viewing. At the end of the day you can come to your own conclusion as to where the 'quality' ends. You can stop at number 250, 300, 500, etc. The choice is yours. Personally speaking, I am pleasantly surprised at the overall quality of the list, especially those films ranked beyond the traditional top 250. It is a much stronger and interesting collection of films than I had originally expected, and I would encourage anyone to delve in.
In terms of the 'cream' at the top, two films made considerable progress.
Eternal Sunshine of the Spotless Mind
and
Caché
both rose within the top 10 by 4 places and 3 places, respectively. The top 10 overall, however, remains the same.
George Miller's
Aussie action-fest
Mad Max: Fury Road
was clearly (by a very long way) the most acclaimed film of 2015. I should be patriotic and raise a toast to the success of Miller's uncompromisingly frenetic film, but I can't. It is simply not my thing. See below for
TSPDT's
25 most critically acclaimed films or 2015.
Sight & Sound…
Please note that the
21st Century's Most Acclaimed Films
listing currently does not include the end-of-year
Sight & Sound
lists from 2005-2015. This is because my criteria up until - and including - this year's edition was to only include top-10 individual end-of-year lists (the
Sight & Sound
lists are top-5's and have therefore to date been excluded). However, I have now decided that from next year onwards I will dispense with this mathematically rigid criteria and include these important lists, and any other worthy individual lists that contain less than 10 films. I know many of you will be disappointed with their exclusion from this year's edition and (for that matter) from past editions, but I urge you to look forward (as I am) to seeing the effect these lists have on next year's edition. It should be a nice little fightback for non-mainstream cinema within these pages.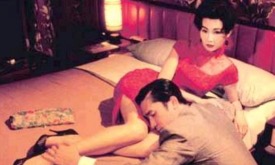 Ain't going anywhere… In the Mood for Love (2000)
The 10 Most Acclaimed Films of the 21st Century
1. IN THE MOOD FOR LOVE
Wong Kar-wai
2. MULHOLLAND DR.
David Lynch
3. YI YI
Edward Yang
4. SPIRITED AWAY
Hayao Miyazaki
5. ETERNAL SUNSHINE OF THE SPOTLESS MIND
Michel Gondry
6. WERCKMEISTER HARMONIES
Béla Tarr
7. CACHÉ
Michael Haneke
8. THE TREE OF LIFE
Terrence Malick
9. THERE WILL BE BLOOD
Paul Thomas Anderson
10 RUSSIAN ARK
Aleksandr SokurovTSPDT's 25 Most Critically-Acclaimed Films of 2015
1. MAD MAX: FURY ROAD
George Miller
2. CAROL
Todd Haynes
3. INSIDE OUT
Pete Docter & Ronaldo Del Carmen
4. SPOTLIGHT
Tom McCarthy
5. BROOKLYN John Crowley
6. EX MACHINA Alex Garland
7. ANOMALISA
Duke Johnson & Charlie Kaufman
8. CREED Ryan Cooler
9. TANGERINE Sean Baker
10. ROOM
Lenny Abrahamson
11. IT FOLLOWS David Robert Mitchell
12. SICARIO Denis Villeneuve
13. STAR WARS: THE FORCE AWAKENS
J.J. Abrams
14. 45 YEARS Andrew Haigh
15. THE BIG SHORT
Adam McKay
16. SON OF SAUL László Nemes
17. THE DIARY OF A TEENAGE GIRL Marielle Heller
18. THE MARTIAN
Ridley Scott
19. TIMBUKTU
Abderrahmane Sissako
20. PHOENIX Christian Petzold
21. CHI-RAQ
Spike Lee
22. THE HATEFUL EIGHT
Quentin Tarantino
23. THE LOOK OF SILENCE
Joshua Oppenheimer
24. CLOUDS OF SILS MARIA
Olivier Assayas
25. TAXI TEHRAN
Jafar Panahi
Directors with the most films in the 21st Century list:
8 - Steven Soderbergh, Steven Spielberg.

7 – Joel Coen & Ethan Coen, Richard Linklater, Guy Maddin, Christopher Nolan, Quentin Tarantino.
6 - Wes Anderson, Claire Denis, Alejandro González Iñárritu, Michael Haneke, Jia Zhangke, Jafar Panahi, Martin Scorsese, Lars von Trier.
5 - Olivier Assayas, Noah Baumbach, Bong Joon-ho, Danny Boyle, Nuri Bilge Ceylan, David Cronenberg, Jean-Pierre Dardenne & Luc Dardenne, Clint Eastwood, David Fincher, Jean-Luc Godard, Paul Greengrass, Werner Herzog, Hou Hsiao-hsien, Spike Lee, Mike Leigh, Tsai Ming-liang, Gus Van Sant, Apichatpong Weerasethakul.
Breakdown of 1,000 films by Year:
2000 = 90 (-3)
2001 = 79 (+1)
2002 = 88 (+4)
2003 = 81 (no change)
2004 = 78 (-5)
2005 = 57 (-6)
2006 = 80 (-2)
2007 = 62 (-9)
2008 = 64 (-6)
2009 = 52 (-8)
2010 = 54 (-3)
2011 = 51 (-1)
2012 = 50 (-3)
2013 = 44 (no change)
2014 = 40 (+11)
2015 = 30 (+30)
Breakdown of 1,000 films by Country (Top 10 in bold):
Afghanistan 1, Argentina 8, Australia 6, Austria 9, Belgium 6, Brazil 5, Cambodia 2,
Canada 25
, Chad 1, Chile 3,
China 23
, Czech Republic 1, Denmark 8, Ethiopia 1, Finland 4,
France 116
,
Germany 29
, Greece 2, Hong Kong 9, Hungary 3, India 5, Indonesia 2,
Iran 15
, Ireland 4, Israel 5,
Italy 13
,
Japan 29
, Mali 1, Mexico 7, Nepal 1, Netherlands 4, New Zealand 3, Norway 2, Philippines 3, Poland 2, Portugal 10, Romania 8, Russia 9, Saudi Arabia 1, Senegal 1, Serbia and Montenegro 1,
South Korea 20
,
Spain 13
, Sweden 12, Switzerland 2, Taiwan 9, Thailand 7, Turkey 5,
United Kingdom 92
, Uruguay 1,
USA 451
.
Thanks again to everyone who contributed to the compilation of this edition and to everyone who has contacted me with their ongoing support. Your enthusiasm and assistance is very much appreciated. Please email your feedback to
bill@theyshootpictures.com
or please leave comments below.
Begin browsing the 2016 edition of
The 21st Century's Most Acclaimed Films
.
The 21st Century's Most Acclaimed Films:
Introduction
,
Films (1000-251)
,
Films (250-151)
,
Films (150-51)
,
Films (50-1)
,
Full List (Sortable Table)
,
Full List (Ranking History)
,
Ex-1,000
,
Alternative Titles
,
Sources/Critics
,
Top 50 Directors
,
Links