John Huston
Director / Screenwriter / Actor / Producer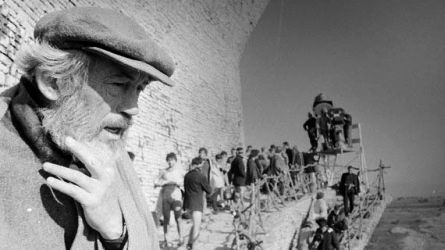 1906 - 1987
Born August 5, Nevada, Missouri, USA
Key Production Country: USA
Key Genres: Drama, Adventure, Psychological Drama, Gangster Film, Crime, Adventure Drama, Period Film
Key Collaborators: Humphrey Bogart (Leading Player), Stephen Grimes (Production Designer), Oswald Morris (Cinematographer), Ralph Kemplen (Editor), Russell Lloyd (Editor), Alex North (Composer), Walter Huston (Character Player), John Foreman (Producer), Roberto Silvi (Editor), Mary Astor (Character Player)
---
Highly Recommended: The Maltese Falcon (1941)*#, The Treasure of the Sierra Madre (1948)*, The Asphalt Jungle (1950)*#
Recommended: In This Our Life (1942), Let There Be Light (1946), Key Largo (1948)#, The African Queen (1951)*, The Misfits (1961)*, Fat City (1972)*, The Man Who Would Be King (1975)*, Wise Blood (1979)
Worth a Look: Across the Pacific (1942), The Battle of San Pietro (1945), Let There Be Light (1946), The Red Badge of Courage (1951), Moulin Rouge (1952), Beat the Devil (1954), Moby Dick (1956), Heaven Knows, Mr. Allison (1957), The Unforgiven (1959), Freud (1962), Reflections in a Golden Eye (1967), The Life and Times of Judge Roy Bean (1972), Under the Volcano (1984), Prizzi's Honor (1985), The Dead (1987)*
Approach with Caution: We Were Strangers (1949), The Night of the Iguana (1964), The Bible (1966), A Walk with Love and Death (1969), The Kremlin Letter (1970), The Mackintosh Man (1973), Escape to Victory (1981)
* Listed in TSPDT's 1,000 Greatest Films section; # Listed in TSPDT's
250 Quintessential Noir Films section.
---
Links: [ Amazon ] [ IMDB ] [ TCMDB ] [ All-Movie Guide ] [ Film Reference ] [ Derek Malcolm's Century of Films: Fat City ] [ Reel Classics Page ] [ Film Noir Directors ] [ Who2 Biography ] [ New York Times Obituary (1987) ] [ Screen Online Biography ] [ Boston Phoenix Article (2006) ]
Books: [ An Open Book ] [ John Huston: Interviews ] [ John Huston's Filmmaking ] [ The Hustons ] [ The Films of John Huston ]




"Huston was always ready to be presented as the movie director who told manly, energetic stories, and liked to end them on a wry chuckle. He was himself a writer, a painter, a boxer, a horseman, a wanderer, a gambler, an adventurer, and a womanizer. More than most, he relished the game of getting a movie set up and the gamble of out-daring and intimidating the studios. His best pictures reflect those tastes and that attitude and had an expansive, airy readiness for ironic endings, fatal bad luck, and the laughter that knows men are born to fail." - David Thomson, (The New Biographical Dictionary of Film, 2002)
"Huston's protagonists often represent extremes. They are either ignorant, pathetic, and doomed by their lack of self-understanding or intelligent, arrogant, but equally doomed by their lack of self-understanding. Between these extremes is the cool, intelligent protagonist who will sacrifice everything for self-understanding and independence. Huston always finds the first group pathetic, the second tragic, and the third heroic. He reserves his greatest respect for the man who retains his dignity in spite of pain and disaster." - Stuart M. Kaminsky (International Dictionary of Films and Filmmakers, 1991)
"'Huston, who favoured working from literary sources, seldom made films that seemed at all personal. Ambitious but erratic, he preferred to ignore the restraints of genre but rarely produced anything original or emotionally involving; often he seemed content to shoot character actors in exotic locations, unsure as to the thematic substance, weight or tone of his material. That said, his finest work casts a beady eye over human aspiration, with the allure of power and an easy life inevitably wrecking the best-laid plans." - Geoff Andrew (The Director's Vision, 1999)
"In the beginning the American male in the films of John Huston was a hard-talking idealist, but he slowly turned into a cynical, alienated loser. The director studies men from top to bottom and everywhere in between." - William R. Meyer (The Film Buff's Catalog, 1978)
"

The directing of a picture involves coming out of your individual loneliness and taking a controlling part in putting together a small world. A picture is made. You put a frame around it and move on. And one day you die. That is all there is to it.

" - John Huston
Please note that the rating given for this director (see top-right) is based only on the films we have seen (listed above). Films by this director that we haven't seen include The Barbarian and the Geisha (1958), The Roots of Heaven (1958), The List of Adrian Messenger (1963), Sinful Davey (1969), Phobia (1980), and Annie (1982).