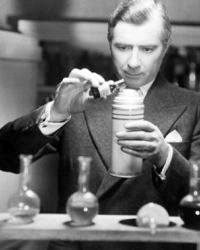 Obsession

The Hidden Room (USA title)

●
BRIT-NOIR
1949, UK, 98m, BW, Thriller-Crime-Mystery
Screenplay
Alec Coppel (based on his novel
A Man About a Dog
)
Producer
Nat A. Bronstein
Photography
C.M. Pennington-Richards
Editor
Lito Carruthers
Music
Nino Rota
Cast
Robert Newton, Phil Brown, Sally Gray, Naunton Wayne, James Harcourt, Betty Cooper, Michael Balfour, Ronald Adam, Roddy Hughes, Olga Lindo.
"Not as well known as Edward Dmytryk's groundbreaking film noirs of the forties,
Murder, My Sweet
(1944) and
Crossfire
(1947),
Obsession
is nonetheless a gripping psychological thriller that builds considerable menace and tension in its bleak trajectory of events. On a visual level, the film (photographed by C.M. Pennington-Richards) is pure noir but in terms of execution,
Obsession
compares favorably to such better known portraits of aberrant behavior depicted in
Hitchcock's
Strangers on a Train
(1951) and
Dial M for Murder
(1954); like Robert Walker's Bruno Antony or Ray Milland's Tony Wendice in the latter films, Dr. Riordan (Newton) is the sort of cunning psychopath who has worked out the perfect murder down to the last detail but has overlooked the possibility of any flaw in the grand design." -
Jeff Stafford (Turner Classic Movies)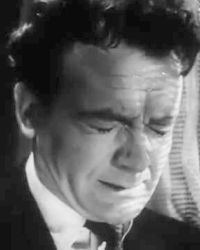 ●
BRIT-NOIR
1947, UK, 98m, BW, Mystery
Screenplay
Eric Ambler (from his novel)
Producer
Eric Ambler
Photography
Erwin Hillier
Editor
Alan L. Jaggs
Music
William Alwyn
Cast
John Mills, Joan Greenwood, Kay Walsh, Edward Chapman, Joyce Carey, Catherine Lacey, Adrianne Allen, Felix Aylmer, Frederick Piper, Patrick Holt.
"This amnesia murder thriller owes whatever good fortune it has to its ominous dark setting of a threatening world in postwar London (shadowy streets and a musty hotel), otherwise the murderer is too obvious, the harried suspect never requires our full sympathy because the police really don't have a thing on him, the screenplay is too cardboard and the acting, for the most part, is a wee bit starchy…. The grim story is adapted by Eric Ambler from his own novel; it never remains tense nor does it offer any surprises about how the mentally injured have a tough go of adjusting to reality. Mills is a first-rate actor who is stuck in this B-film, and it's to his credit that he makes the most of the incredulous and stiff role he was saddled with." -
Dennis Schwartz (Movie Reviews)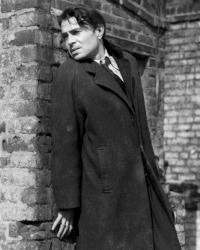 Odd Man Out

●
BRIT-NOIR
1947, UK, 115m, BW, Drama-Crime-Chase Movie
Screenplay
F.L. Green, R.C. Sherriff (from the novel by F.L. Green)
Producer
Carol Reed
Photography
Robert Krasker
Editor
Fergus McDonell
Music
William Alwyn
Cast
James Mason, Robert Newton, Robert Beatty, Kathleen Ryan, William Hartnell, Cyril Cusack, F.J. McCormick, Fay Compton, Beryl Measor, Dan O'Herlihy.
"
Odd Man Out
was Carol Reed's first postwar feature and the first of a quartet of films, including
The Fallen Idol
,
The Third Man
, and
Outcast of the Islands
, which were to mark the highpoint of a lengthy film-making career. Based on F. L. Green's novel of the same name, the film was partly shot in Belfast with a predominantly Irish cast... Robert Krasker, the cameraman on
Brief Encounter
, was responsible for the film's striking photography, and William Alwyn contributed a memorable musical score, incorporating individual leitmotifs for three of the central characters... Formally, the film is heavily indebted to both German Expressionism and French poetic realism—indeed, its ending is practically a copy of
Julien Duvivier's
Pepé le Moko
(1936)—and has much in common with its similarly stylised postwar US counterpart, the film noir." -
John Hill (Film Reference)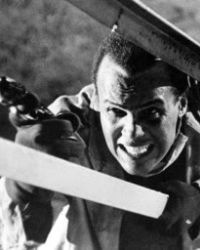 Odds Against Tomorrow


1959, USA, 95m, BW, Thriller-Crime-Caper
Screenplay Abraham Polonsky [uncredited], Nelson Gidding (from the novel by William P. McGivern) Producer Robert Wise Photography Joseph Brun Editor Dede Allen Music John Lewis Cast Harry Belafonte, Robert Ryan, Shelley Winters, Ed Begley, Gloria Grahame, Will Kuluva, Kim Hamilton, Mae Barnes, Richard Bright, Carmen De Lavallade.
"
Odds Against Tomorrow
is erroneously tapped as the first noir with an African-American lead (see 1950's
No Way Out
for the true heir to this title). Harry Belafonte produces and stars, along with Ed Begley Sr. and Wise regular Robert Ryan. Bleak beyond redemption,
Odds
is a heist movie crossed with
The Defiant Ones
: A Black man and a White man must trust each other in order to succeed... What makes
Odds Against Tomorrow
one of Wise's best is just how nasty and subversive it is for 1959. The dialogue is raw and epithet-filled... Both novelist James Ellroy and director
Jean-Pierre Melville
cite it as an influence on their work. (Ellroy calls it "just about the best heist gone wrong movie ever made.")
Scorsese
also cites it as one of Wise's better pictures." -
Odie Henderson (The House Next Door)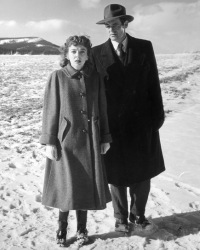 On Dangerous Ground


1951, USA, 82m, BW, Crime-Drama-Police Detective Film
Screenplay
A.I. Bezzerides (adapted by A.I. Bezzerides and Nicholas Ray from the novel
Mad with Much Heart
by Gerald Butler)
Producer
John Houseman
Photography
George E. Diskant
Editor
Roland Gross
Music
Bernard Herrmann
Cast
Robert Ryan,
Ida Lupino
, Ward Bond, Charles Kemper, Ed Begley, Cleo Moore, Sumner Williams, Anthony Ross, Ian Wolfe, Gus Schilling.
"One of the loveliest of Nick Ray's movies: this 1952 feature begins as a harsh film noir and gradually shifts to an ethereal romanticism reminiscent of
Frank Borzage
. Robert Ryan is the unstable hero, a thuggish cop sent upstate in search of a murderer; he ends up falling in love with the killer's blind sister (
Ida Lupino
, who took over some of the direction when Ray fell ill). Ray excels both in the portrayal of the corrupt urban environment, a swirl of noirish shadows and violent movements, and in his exalted vision of the snow-covered countryside, filmed as a blindingly white, painfully silent field for moral regeneration." -
Dave Kehr (Chicago Reader)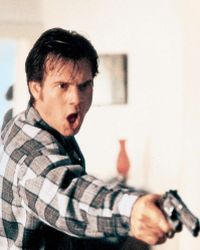 One False Move

●
NEO-NOIR / COLOUR NOIR
1992, USA, 105m, Col, Drama-Crime-Thriller
Screenplay
Billy Bob Thornton, Tom Epperson
Producers
Ben Myron, Jesse Beaton
Photography
James L. Carter
Editor
Carole Kravetz Aykanian
Music
Derek Holt, Peter Haycock
Cast
Bill Paxton, Cynda Williams, Billy Bob Thornton, Jim Metzler, Michael Beach, Earl Billings, Natalie Canerday, Robert Anthony Bell, Kevin Hunter, Robert Ginnaven.
"Here is a crime movie that lifts you up and carries you along in an ominously rising tide of tension, building to an emotional payoff of amazing power. On the very short list of great movies about violent criminals,
One False Move
deserves a place of honor, beside such different kinds of films as
In Cold Blood
,
Henry: Portrait of a Serial Killer
,
Badlands
,
The Executioner's Song
and
At Close Range
… Yet no words of praise can quite reflect the seductive strength of
One False Move
, which begins as a crime story and ends as a human story in which everything that happens depends on the personalities of the characters. It's so rare to find a film in which the events are driven by people, not by chases or special effects." -
Roger Ebert (Roger Ebert.com)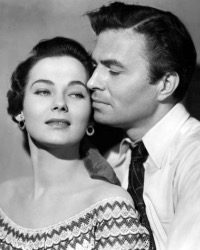 1950, USA, 79m, BW, Drama-Crime
Screenplay Lawrence Kimble Producer Leonard Goldstein Photography Maury Gertsman Editor Milton Carruth Music Frank Skinner Cast James Mason, Marta Toren, Dan Duryea, Basil Ruysdael, William Conrad, Rodolfo Acosta, King Donovan, Robert Espinoza, Tito Renaldo, Margarito Luna.
"It's a shame
One Way Street
has such a low profile today because it is one of the better noirs from the early 1950s. Director Hugo Fregonese, along with cast and crew, conjures a sense of life's ongoing flow before the first shot and after the end credits, the mark of a memorable film. However, the viewer might wish that Lawrence Kimble's script didn't seem more than just a good first draft, that it delved deeper into the lead characters. There is no sense of the impressive tapestry of detail that one finds in noirs like
Out of the Past
and
Criss Cross
, films with which it shares some faint similarities... But, to be fair,
One Way Street
seems as if it was shot on a lower budget and a much faster schedule than those earlier benchmark pictures." -
Chris D. (Film Noir: The Encyclopedia)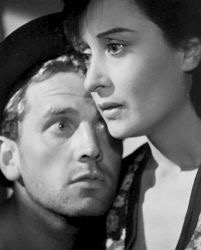 Ossessione

●
ITALIAN NOIR
1943, Italy, 140m, BW, Crime-Drama
Screenplay
Gianni Puccini, Giuseppe De Santis, Luchino Visconti, Luchino Visconti (based on the novel
The Postman Always Rings Twice
by James M. Cain)
Producer
Libero Solaroli
Photography
Domenico Scala
Editor
Mario Serandrei
Music
Giuseppe Rosati
Cast
Clara Calamai, Massimo Girotti, Juan deLanda, Elio Marcuzzo, Dhia Cristani, Vittorio Duse, Michele Riccardini, Michele Sakara.
"When Visconti received permission to adapt James M. Cain's American pulp novel
The Postman Always Rings Twice
—about a drifter who falls in love with a diner owner's wife and conspires to kill her husband—he loaded the story with as much Marxist critique as it could bear. That 1943 debut,
Ossessione
, contained the sense of fatalism soon to be standard in American noir, as well as the sweaty, dusty neo-realism soon to be the dominant mode of expression in Italian cinema. The film holds up well today, both as a murder story and as a slice-of-life. Massimo Girotti's performance as the unemployed drifter has a desperation that pierces his character's lackadaisical surface; he appears to be genuinely enamored of the somewhat shrewish Clara Calamai, and to possess a real feeling of hope that his lot is about to improve." -
Noel Murray (A.V. Club)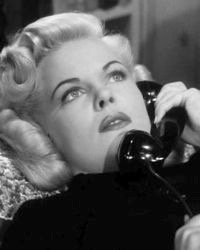 1954, USA, 81m, BW, Crime-Drama
Screenplay Hugo Haas Producer Hugo Haas Photography Eddie Fitzgerald Editor Robert S. Eisen Music Ernest Gold Cast Hugo Haas, Cleo Moore, Lance Fuller, Lucille Barkley, Jack Macy, John Qualen, Jan Arvan, Karolee Kelly, Steve Mitchell, Robert Lowell.
"Haas' American films are remembered today primarily for his R. Crumb-like obsession with casting buxom blonde bombshells. He directed and starred alongside Cleo Moore in seven pictures, including
The Other Woman
… It's unfair to dismiss Haas as a from-hunger purveyor of drive-in cheesecake.
The Other Woman
demands otherwise. Despite its obviously low budget production values and cast, it's a polished, highly personal film with a nuanced, clever script that doesn't compromise its own dark underpinnings — even if the story of blackmail and murder is hackneyed. What elevates
The Other Woman
over similar potboilers is how Haas uses the story and visual tropes of film noir to comment about his personal life in Hollywood." -
Mark Fertig (Where Danger Lives)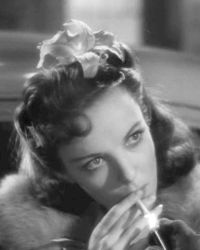 1941, USA, 93m, BW, Crime-Drama
Screenplay
Jerry Wald, Richard Macaulay,
Robert Rossen
(based on the play
The Gentle People
by Irwin Shaw)
Producer
Henry Blanke
Photography
James Wong Howe
Editor
Warren Low
Music
Leo F. Forbstein
Cast
Ida Lupino
, John Garfield, Thomas Mitchell, Eddie Albert, John Qualen, George Tobias, Aline MacMahon, Leo Gorcey, Jerome Cowan, Odette Myrtil.
"Oddly atmospheric mixture of noir melodrama and semi-comic parable (based on Irwin Shaw's play
The Gentle People
), in which Garfield's tinpot Dillinger terrorises a small wharfside community by extracting protection money. Problems arise when
Lupino
, daughter of Mitchell - who eventually plots with Qualen to combat their oppressor - falls for the hood. Originally intended by Shaw as an anti-fascist statement, the film's message is inevitably confused by the fact that Mitchell and Qualen finally take the law into their own hands. Nevertheless, the vivid performances, the occasionally poetic dialogue (by a team of writers that included Jerry Wald and
Robert Rossen
), and James Wong Howe's excellent moody photography lend it a professionalism that the story barely warrants." -
Geoff Andrew (Time Out)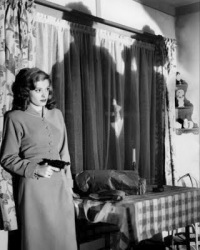 Out of the Past


Build My Gallows High (UK title)
1947, USA, 97m, BW, Thriller-Mystery-Crime
Screenplay Daniel Mainwaring, Frank Fenton, James M. Cain (from the novel Build My Gallows High by Daniel Mainwaring) Producer Warren Duff Photography Nicholas Musuraca Editor Samuel E. Beetley Music Roy Webb Cast Robert Mitchum, Jane Greer, Kirk Douglas, Rhonda Fleming, Richard Webb, Steve Brodie, Virginia Huston, Paul Valentine, Dickie Moore, Ken Niles.
"The script is dense, subtly shaped, and bristles with stylised, often witty hard-boiled dialogue and voice-over narration, eg: 'I never saw her in the daytime. We seemed to live by night. What was left of the day went away like a pack of cigarettes you smoke.' The superb photography is by Nicholas Musuraca, an RKO stalwart specialising in noir, and the first-rate score is by the studio's prolific senior composer, Roy Webb, who had worked with
Hitchcock
on
Notorious
the previous year. The picture draws on Hemingway's
The Killers
for its opening sequence, and is a major influence on
David Cronenberg's
A History of Violence
." -
Philip French (The Observer)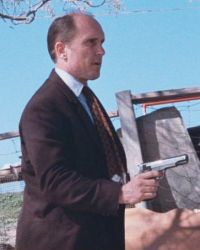 The Outfit

●
NEO-NOIR / COLOUR NOIR
1973, USA, 103m, Col, Crime-Thriller-Drama
Screenplay
John Flynn (from the novel by Richard Stark)
Producer
Carter DeHaven
Photography
Bruce Surtees
Editor
Ralph E. Winters
Music
Jerry Fielding
Cast
Robert Duvall, Karen Black, Joe Don Baker, Robert Ryan, Timothy Carey, Richard Jaeckel, Sheree North, Marie Windsor, Jane Greer, Elisha Cook Jr.
"Excellent adaptation of a novel by Richard Stark (Donald E Westlake), who also provided the source material for
Point Blank
,
The Split
and
Godard's
Made in USA
. A taut, grim thriller, it sees Duvall, just out of prison and with revenge burning in his heart for the murder of his brother, taking on the Syndicate with the help of heavy Joe Don Baker. Tightly scripted by Flynn himself, sharply shot by Bruce Surtees, it's a cool, exciting thriller in the
Siegel
tradition, paying more than passing reference to classic film noir with its host of character actors (Cook, Windsor, Greer, Carey), a cruel performance from Ryan as the mob leader, and its vision of people caught up in a chaotic, confused and treacherous world." -
Geoff Andrew (Time Out)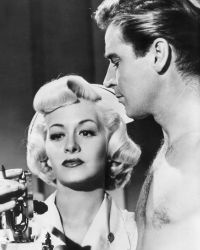 1950, USA, 80m, BW, Crime-Drama
Screenplay
Crane Wilbur (from a story by Henry Edward Helseth)
Producer
Aaron Rosenberg
Photography
Irving Glassberg
Editor
Edward Curtiss
Music
Milton Schwarzwald
Cast
Richard Basehart, Marilyn Maxwell, Signe Hasso, Dorothy Hart,
Joseph Pevney
, Lloyd Gough, Harry Morgan, John Hoyt, Mickey Knox, Harry Antrim.
"This is a solid crime picture, even if it isn't a full-bodied film noir…
Outside the Wall
is cheap, enjoyable, unspectacular, and entertaining. It has too much brotherly love for a bona fide film noir, but it offers a rare glimpse at the mid-century streets of one of America's great cities (Philadelphia), and it serves up plenty of what crime and noir fans get jazzed on: prisons and parolees, bad girls, torturous thugs, and killers who pull heists with hand grenades. Everything about it may have been done better in some other picture, but what's not to like?" -
Mark Fertig (Where Danger Lives)

The 100 Most Cited Noir Films

Recommended Viewing (by
TSPDT
)