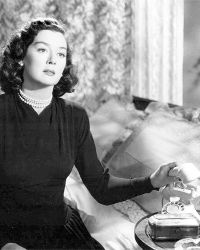 1948, USA, 100m, BW, Crime-Drama-Thriller
Screenplay Leo Rosten (adapted by Walter Reilly, from a story by William Mercer and Annabel Ross) Producer Frederick Brisson Photography Joseph Walker Editor Chandler House Music Leigh Harline Cast Rosalind Russell, Leo Genn, Claire Trevor, Sydney Greenstreet, Leon Ames, Frank McHugh, Walter Kingsford, Dan Tobin, Lex Barker, Nydia Westman.
"Russell plays a middle-aged Broadway leading lady trying to break away from her light comic plays and act in something 'serious'. She has an argument with her former love - lecherous producer Gordon Dunning (Leon Ames) – after a performance. Russell kills him with a blunt blow on the head with a Tony Award… A better 'Broadway noir' would be the outstanding
A Double Life
released in theaters just six months earlier… However
The Velvet Touch
- even with it's shortcomings - is not without charm. The film's worth seeing for one of the 'Queens of Film Noir' Claire Trevor – always a welcome sight – and the giant known as Sydney Greenstreet." -
Steve Eifert (Film Noir of the Week)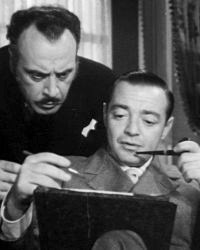 1946, USA, 86m, BW, Thriller-Mystery-Crime
Screenplay Peter Milne (based on the novel The Big Bow Mystery by Israel Zangwill) Producer William Jacobs Photography Ernest Haller Editor Thomas Reilly Music Frederick Hollander Cast Sydney Greenstreet, Peter Lorre, Joan Lorring, George Coulouris, Rosalind Ivan, Paul Cavanagh, Arthur Shields, Morton Lowry, Holmes Herbert, Art Foster.
"Siegel's first film, an ingenious locked room mystery set in London in 1890, adapted from a novel by Israel Zangwill (often described as the father of the genre). Greenstreet plays a genial Scotland Yard inspector who, dismissed after thirty years of distinguished service when an oversight results in the hanging of an innocent man, deviously stages a second case… Siegel deliberately plays on ambivalences throughout, leaving motivations not quite explained and opening up dark, speculative avenues of paranoia and perversity, not least through Greenstreet's teasing, subtly suggestive intimacy with Lorre as an amiably decadent, inimitably sinister artist friend. The result, impeccably performed and beautifully shot by Ernest Haller, emerges as splendid cross between Gothic melodrama and film noir." -
Tom Milne (Time Out)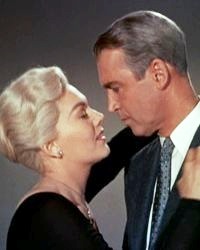 Vertigo

●
COLOUR NOIR
1958, USA, 128m, Col, Drama-Romantic Mystery-Psychological Thriller
Screenplay
Alec Coppel, Samuel A. Taylor, Maxwell Anderson [uncredited] (based on the novel
D'Entre Lews Morts
by Pierre Boileau and Thomas Narcejac)
Producer
Alfred Hitchcock
Photography
Robert Burks
Editor
George Tomasini
Music
Bernard Herrmann
Cast
James Stewart, Kim Novak, Barbara Bel Geddes, Tom Helmore, Henry Jones, Ellen Corby, Lee Patrick, Raymond Bailey, Konstantin Shayne, Paul Bryar.
"It's nice to see critics accepting Alfred Hitchcock's 1958 commercial flop as a masterpiece... But masterpiece it is: I can think of no film that makes romance more palpable and affecting... The compositions and colors are profoundly alluring — never has Hitchcock's famously preplanned imagery been more sensual and seductive. But every image is also undermined by a deep instability: sensuous colors, shifting camera angles, and the inward-directed camera movements all create an imbalance that denies the viewer any film ground. The "vertigo" shots — in which Scottie and his view seems to recede and advance at once — make explicit the push-pull that undermines every composition." -
Fred Camper (Chicago Reader)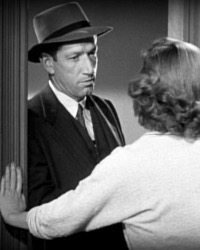 1953, USA, 85m, BW, Crime-Drama-Thriller
Screenplay Dwight Taylor (with additional dialogue by Harold Greene and Leo Townsend, from the novel I Wake Up Screaming by Steve Fisher) Producer Leonard Goldstein Photography Milton Krasner Editor Dorothy Spencer Music Leigh Harline Cast Jeanne Crain, Jean Peters, Elliott Reid, Richard Boone, Max Showalter, Alex D'Arcy, Carl Betz, Aaron Spelling, Robert Adler, Ramsay Ames.
"A remake of the 1942 film
I Wake Up Screaming
,
Vicki
primarily revolves around the investigation that ensues after the titular character - an up-and-coming starlet - is murdered. The specifics of Vicki's short life play out via flashbacks, and we watch as an obsessive cop (Richard Boone) interrogates various suspects… Directed by Harry Horner and featuring an appearance by prolific television producer Aaron Spelling (there's a reason he's not known for his acting, it turns out),
Vicki
generally has the feel of a contemporary crime show - though screenwriter Dwight Taylor offsets that vibe by including several unexpectedly and distinctly dark bits of comedy and an overall emphasis on the more hard-boiled aspects of the genre." -
David Nusair (Reel Film Reviews)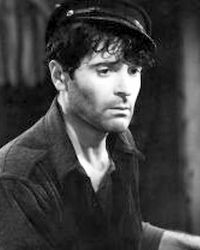 1944, USA, 85m, BW, Crime-War Drama
Screenplay Friedrich Torberg (based on a story by Arthur Ripley) Producer Arthur Ripley, Rudolph Monter Photography Richard Fryer Editor Holbrook N. Todd Music Michel Michelet Cast Francis Lederer, Sigrid Gurie, J. Edward Bromberg, J. Carrol Naish, Alexander Granach, David Cota, Olga Fabian, Howard Johnson, Hans Schumm, Luis Alberni.
"
Voice in the Wind
is a strange little film, filled with romantic angst and closer in spirit to nineteenth century opera than to film noir. Yet by any reckoning it is one of the darkest films of the cycle, lacking even one daylight scene (the fact that the film was purportedly shot in 12 days on a shoestring budget may also have something to do with this)… Others have criticized it for being 'arty' rather than artful, having the texture but not the substance of a foreign film. Yet these weaknesses do not demean its place in any study of classic American film noir, a cycle of films whose very lifeblood depended on the production of these low-budget 'thrillers' despite their deficiencies. And the fact that it was directed by Arthur Ripley, a 'cult' director of some renown, does nothing to lessen its appeal." -
Robert Porfirio (Film Noir: The Encyclopedia)
1945, USA, 60m, BW, Drama-Crime
Screenplay Wilfred H. Petitt, William Castle (based on a story by Allan Rader) Producer Rudolph C. Flothow Photography George Meehan Editor Dwight Caldwell Music Mario Castelnuovo-Tedesco Cast Richard Dix, Lynn Merrick, Rhys Williams, James Cardwell, Tom Kennedy, Sam Ash, Egon Brecher, Charles Coleman, Otto Forrest, Byron Foulger.
"Less a murder mystery and more of a
Capra
-esque statement on the importance of friends and the perils of loneliness, this half-assed entry in
The Whistler
series is seriously lacking any of the series' patented twists and turns until the final reel. Stripped of the franchise's usual sensibilities for 5/6 of the film's running time (The Whistler doesn't start waxing philosophical until Dix frantically tries to hide the body.)
Voice of the Whistler
is an interesting departure for the series, but ultimately it's too low key for it's own good." -
Mitch Lovell (The Video Vacuum)

Available on Blu-ray

Recommended Viewing (by
TSPDT
)