Jackie Brown

●
NEO-NOIR / COLOUR NOIR
1997, USA, 151m, Col, Drama-Crime-Comedy
Screenplay
Quentin Tarantino (based on the novel
Rum Punch
by Elmore Leonard)
Producer
Lawrence Bender
Photography
Guillermo Navarro
Editor
Sally Menke
Music
Joseph Julian Gonzalez
Cast
Pam Grier, Samuel L. Jackson, Robert Forster, Bridget Fonda, Michael Keaton, Robert De Niro, Michael Bowen, Lisa Gay Hamilton, Tommy 'Tiny' Lister Jr., Hattie Winston.
"If Tarantino's strengths are dialogue and plotting, his gift is casting. Pam Grier, the goddess of 1970s tough-girl pictures, here finds just the right note for Jackie Brown; she's tired and desperate… A lot of crime films play like they were written by crossword puzzle fans who fill in the easy words and then call the hot line for the solution. (The solution is always: Abandon the characters and end with a chase and a shootout.) Tarantino leaves the hardest questions for last, hides his moves, conceals his strategies in plain view, and gives his characters dialogue that is alive, authentic and spontaneous. You savor every moment of
Jackie Brown
. Those who say it is too long have developed cinematic attention deficit disorder. I wanted these characters to live, talk, deceive and scheme for hours and hours." -
Roger Ebert (Roger Ebert.com)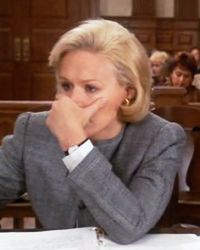 Jagged Edge

●
NEO-NOIR / COLOUR NOIR
1985, USA, 108m, Col, Thriller-Mystery-Courtroom Drama
Screenplay
Joe Eszterhas
Producer
Martin Ransonhoff
Photography
Matthew F. Leonetti
Editors
Conrad Buff, Sean Barton
Music
John Barry
Cast
Jeff Bridges, Glenn Close, Maria Mayenzet, Peter Coyote, Robert Loggia, John Dehner, Karen Austin, Guy Boyd, Marshall Colt, Louis Giambalvo.
"This shows that a contemporary whodunit can still rivet sophisticated modern audiences without retreating into horror or camp. Marquand and screenwriter Joe Eszterhas achieve this coup by ringing brilliant changes on ancient material: Close plays a woman defence lawyer who becomes involved with client Bridges, fighting to prove he's innocent of murdering his wife. The trial scenes are scripted and played with electrifying skill, as every turn and twist is amplified through Close's emotions. But it is much more than a courtroom picture. These days it is almost unheard of for a movie to keep you guessing until the last frame, but this one does, partly because Marquand plays it so beautifully straight." -
David Pirie (Time Out)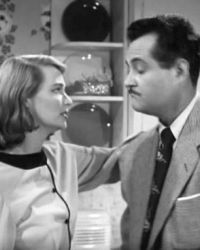 1954, USA, 71m, BW, Crime-Drama-Thriller
Screenplay Alex Gordon, Edward D. Wood Jr. Producer Edward D. Wood Jr. Photography William C. Thompson Editor Charles Clement Music Hoyt Curtin Cast Lyle Talbot, Dolores Fuller, Herbert Rawlinson, Steve Reeves, Clancy Malone, Timothy Farrell, Tedi Thurman, Bud Osborne, Mona McKinnon, Don Nagel.
"This minor noir has many of the Wood trademarks – rigid actors who seem more like mannequins than people; a pumped-up but misleading ad campaign ("DANGER! These girls are hot!"); a bizarre score in the form of relentless Spanish classical guitar music; stock Wood players like Dolores Fuller, Timothy Farrell, Mona McKinnon, and Lyle Talbot; and of course hokey dialogue… Released by Howco (a low-budget company slightly more respectable than Wood's usual), the film is less interesting than his other work in part because it's simply too straightforward and coherent. There's none of that rushed, ragged feel of
Plan 9
or
Glen or Glenda
, where the narrative is skewered with strange, seemingly unrelated interludes that make these works compulsively watchable as we await the next surprise." -
Gary Morris (Bright Lights Film Journal)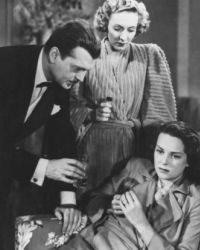 1945, USA, 71m, BW, Mystery-Crime-Drama
Screenplay Arnold Lipp, Gustav Machatý (based on a story by Dalton Trumbo) Producer Gustav Machatý Photography Henry Sharp Editor John F. Link Music Hanns Eisler Cast John Loder, Jane Randolph, Karen Morley, Nils Asther, Hugo Haas, Holmes Herbert, Michael Mark, Mauritz Hugo, Peggy Leon, Mary Arden.
"A bit 'artier' than most Republic melodramas,
Jealousy
was directed by Gustav Machaty, the Czech expatriate famous for the 1933 exercise in erotica
Extase
. Nils Asther plays failed novelist Peter Urban, who is married to gorgeous Janet Urban (Jane Randolph). While trying to replenish the family coffers by working as a cab driver, Janet meets and befriends handsome physician David Brent (John Loder). Shortly afterward, a murder occurs, which is made to look like a suicide. Without tipping off too much of the plot, it's worth noting that Brent's associate is the bewitching Dr. Monica Anderson (Karen Morley) , and that such mysterious types as Hugo Haas and Mauritz Hugo are also in the picture.
Jealousy
was based on a story by Dalton Trumbo." -
Hal Erickson (Allmovie)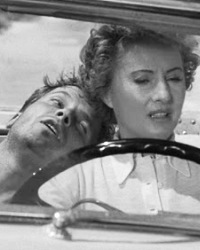 1953, USA, 69m, BW, Drama-Crime-Thriller
Screenplay Mel Dinelli (from a story by Maurice Zimm) Producer Sol Baer Fielding Photography Victor Milner Editor Newell P. Kimlin Music Dimitri Tiomkin Cast Barbara Stanwyck, Barry Sullivan, Ralph Meeker, Lee Aaker, Bud Wolfe, Saul Gorss, Bob Castro, Paul Fierro, Juan Torena, Felipe Turich.
"Everyone has their favorite family vacation horror story but this one takes the prize. In
Jeopardy
, Barry Sullivan and Barbara Stanwyck play a married couple traveling with their small son (Lee Aaker) along the Mexican coast... A taut, seventy-minute exercise in suspense,
Jeopardy
is a perfect example of why John Sturges was considered a master craftsman by Hollywood studio executives. Though modestly budgeted, Sturges elicited excellent performances from his three stars and transformed
Jeopardy
from a routine thriller into a surprise box-office hit for MGM. It was no easy task considering the original source material was a radio play,
A Question of Time
by Maurice Zimm. Screenwriter Mel Dinelli had to expand the material to three times its original length to make it a feature." -
Jeff Stafford (Turner Classic Movies)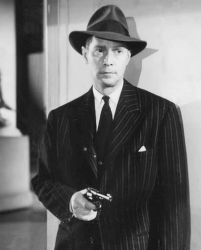 1949, USA, 72m, BW, Crime-Drama
Screenplay Fletcher Markle, Vincent McConnor (based on a story by John Roeburt) Producer Edward J. Danziger, Harry Lee Danziger Photography Don Malkames Editor Robert Matthews Music Robert W. Stringer Cast Franchot Tone, Jean Wallace, Myron McCormick, Marc Lawrence, Winifred Lenihan, Doe Avedon, Hedley Rainnie, Walter Vaughn, George Breen, Robert Gist.
"
Jigsaw
is a rollicking thriller so camp you forgive the preposterous plot and thank the heavens for bringing it your way. A weirder movie you could not imagine. Franchot Tone is a NY special prosecutor pursuing a murky underground hate group with tentacles in the highest echelons of the city's elite government and business circles… This b-picture was made by a bunch of journeymen, who through the quirky finger of fate came together to pack into 77 minutes an entertainment set in a Manhattan so darkly baroque, it seems almost self-consciously noir. From the opening panoramic shots of an isolated city street to the seamless and exciting climax in a darkened art gallery at night, impenetrable shadows haunt the streetscape of a city almost subterranean in its ambience." -
Tony D'Ambra (FilmsNoir.net)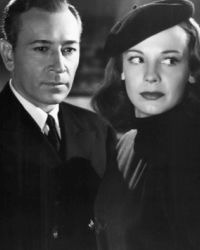 1945, USA, 79m, BW, Mystery-Drama-Crime
Screenplay Steve Fisher (adapted by Frank Gruber from the novel Mr. Angel Comes Aboard by Charles G. Booth) Producer William L. Pereira Photography Harry Wild Editor Les Millbrook Music Leigh Harline Cast George Raft, Claire Trevor, Signe Hasso, Lowell Gilmore, Hoagy Carmichael, Marvin Miller, Margaret Wycherly, J. Farrell MacDonald, Mack Gray, Jason Robards Sr..
"A ghost ship emerges out of the fog: bullet-holes, overturned chairs and broken photographs point to a perturbed past. The world of
Johnny Angel
is very noir indeed. Raft plays Captain ~Johnny Angel, who's out to avenge the murder of his father, but gets only bland sympathy from the babyish Gusty (Miller), his father's boss. Trevor, as Gusty's scheming wife, is playing a shady game of her own, while French girl Paulette (Hasso) is hunted by an unknown killer and trusts no one. They all inhabit a closed world, where even pastoral idylls reek of claustrophobia and obsession. The men struggle against the towering shadows of their fathers, the women are dangerously enigmatic, and the docks of New Orleans glisten under the diffuse light of a single street-lamp… There are no black diamonds, but
Johnny Angel
glitters like one." -
Ruth Baumgarten (Time Out)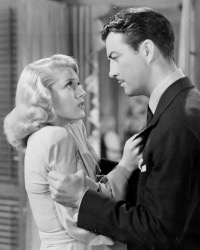 1941, USA, 107m, BW, Crime-Melodrama
Screenplay James Edward Grant, John Lee Mahin (from an unpublished story by James Edward Grant) Producer John W. Considine Jr. Photography Harold Rosson Editor Albert Akst Music Bronislau Kaper Cast Robert Taylor, Lana Turner, Edward Arnold, Van Heflin, Robert Sterling, Patricia Dane, Glenda Farrell, Henry O'Neill, Barry Nelson, Charles Dingle.
"The John Lee Mahin/James Edward Grant script for this gangster movie proposes an intriguingly sleazy scenario about a cold-blooded hoodlum (Taylor), his homosexual whipping-boy (Heflin), and the masochistic society girl (Turner) who can't wait to sample his wares ('I think he'd beat a woman if she made him angry'). Given the full-gloss-and-redemption MGM treatment, it emerges as the sudsiest of soaps… LeRoy handles the grand operatics with a certain style and excellent camerawork from Harold Rosson; but nothing can salvage a film which suggests that its hero went to the bad because he never owned a dog as a boy." -
Tom Milne (Time Out)
1947, USA, 95m, BW, Crime-Drama-Thriller
Screenplay Robert Rossen (from an unpublished story by Milton Holmes) Producer Edward G. Nealis Photography Burnett Guffey Editor Warren Low Music George Duning Cast Dick Powell, Evelyn Keyes, Lee J. Cobb, Ellen Drew, Nina Foch, Thomas Gomez, John Kellogg, Jim Bannon, Mabel Paige, Phil Brown.
"Rossen composed a spry, noirish murder mystery spun around a corrupt network of assorted characters whose connections to one another only gradually come into focus. The enigmatic man with the interesting name eludes definition – a casino boss who never gambles – and delicately dances around an ornate array of broken female companions and business partners – many of whom are likewise linked to each other by unsteady emotional and economic dependency. Cordially spurning attachment or purpose, O'Clock is finally jolted into existential action by the persistence of a clever detective and the murder victim's beguiling sister." -
Harvard Film Archive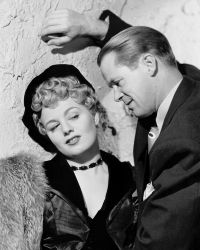 1949, USA, 76m, BW, Crime-Drama-Police Detective Film
Screenplay Robert L. Richards (from a story by Henry Jordan) Producer Aaron Rosenberg Photography Maury Gertsman Editor Ted J. Kent Music Milton Schwarzwald Cast Howard Duff, Shelley Winters, Dan Duryea, Tony Curtis, John McIntire, Gar Moore, Leif Erickson, Barry Kelley, Hugh Reilly, Wally Maher.
"Federal agents risking mortal danger to infiltrate criminal syndicates supply one of the basic templates for film noir…
Johnny Stool Pigeon
is a creditable if not especially memorable effort, thanks mostly to a cast headed by Dan Duryea, Howard Duff, Shelley Winters and even a young Tony Curtis… The reliable Duryea relies on the sneering and cynical persona perfected working for Fritz Lang, and Winters adds a dash of femme fatale. It all adds up to a fairly routine but efficient 75 minutes of noir." -
Bill MacVicar (Film Noir: The Encyclopedia)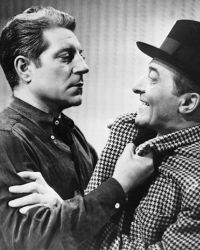 Le Jour se lève

Daybreak (English title)
●
NOIR-PRECURSOR / FRENCH NOIR
1939, France, 93m, BW, Thriller-Crime-Romantic Drama
Screenplay
Jacques Prévert (from a story by Jacques Viot)
Producer
Jean-Pierre Frogerais
Photography
André Bac, Albert Viguier, Philippe Agostini
Editor
René Le Hénaff
Music
Maurice Jaubert
Cast
Jean Gabin, Arletty, Jules Berry, Mady Berry, René Génin, Arthur Devère, René Bergeron, Bernard Blier, Jacqueline Laurent, Gabrielle Fontan.
"
Le Jour Se Lève
typically gets shoehorned, along with a handful of other collaborations between director Marcel Carné and screenwriter Jacques Prévert, into a filmic historical movement known by the oxymoronic catchall 'poetic realism.' But, in many ways, it's more productive to view this relentlessly dour and disillusioned masterwork as a feel-bad forerunner of film noir… Like Carné's earlier
Port of Shadows
,
Le Jour Se Lève
establishes a versatile visual palette that exerted a significant influence over classical noir. Head cinematographer Philippe Agostini employs expressive low-key lighting at key moments and, in one notable instance, swathes Gabin's face in darkness save for a bright band across his eyes. Such stark, high-contrast lighting schemes provide the perfect objective correlative for the film's blunt existential musings." -
Budd Wilkins (Slant Magazine)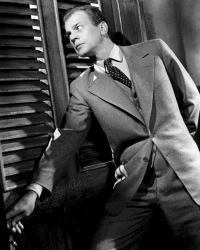 1943, USA, 68m, BW, Spy-Drama-Thriller
Screenplay
Joseph Cotten,
Orson Welles
, Richard Collins, Ben Hecht (from the novel by Eric Ambler)
Producer
Orson Welles
Photography
Karl Struss
Editor
Mark Robson
Music
Roy Webb
Cast
Joseph Cotten, Dolores Del Rio,
Orson Welles
, Ruth Warrick, Agnes Moorehead, Jack Durant, Everett Sloane, Eustace Wyatt, Frank Readick, Jack Moss.
"'Designed' rather than directed by
Welles
, though you wouldn't care to bet on it as things get under way with the camera craning up to a sleazy window in Istanbul and peering in - as a tinny gramophone with a stuck needle maddeningly grinds out the same phrase - for its first glimpse of the slug-like babyfaced killer played (brilliantly) by Jack Moss. Thereafter, with Cotten on the run from Gestapo agents and
Welles
having fun in the first of his monster roles as the Turkish chief of secret police (he directed all his own scenes), the tone veers through nightmare chases, bizarre encounters, and deflating jokes. Eminently watchable, but it does tail away." -
Tom Milne (Time Out)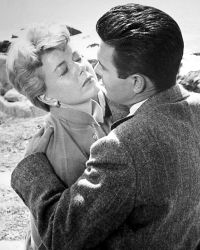 1956, USA, 99m, BW, Thriller-Mystery-Action
Screenplay Andrew L. Stone Producer Martin Melcher Photography Fred Jackman Jr. Editor Virginia L. Stone Music Leith Stevens Cast Doris Day, Louis Jourdan, Barry Sullivan, Frank Lovejoy, Jack Kelly, Ann Robinson, Barney Phillips, Jack Kruschen, John Gallaudet, Carleton Young.
"Improbable crime thriller about a woman-in-peril, that is too uneven to be effective; the banal dialogue is the final killer. Director-writer Andrew L. Stone's overwrought thriller seemed more unintentionally funny than scary, as the suspense never hits on all cylinders. There are those who might find this bad film even more entertaining than if it were a good film; that is, if they don't take it seriously… Doris Day, to her credit, gives it her best shot and tries to take it seriously even when the melodrama moves way past the point of just being ridiculous. Later disaster movies stole some of those airplane landing scenes." -
Dennis Schwartz (Movie Reviews)

Recommended Viewing (by
TSPDT
)