Rainer Werner Fassbinder
Director / Screenwriter / Actor / Editor / Producer / Production Designer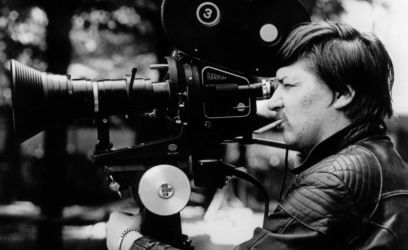 1945 - 1982
Born May 31, Bad Wörishofen, Bavaria, Germany
Key Production Country: Germany
Key Genres: Drama, Psychological Drama, Melodrama, Gay & Lesbian Films, Crime Drama, Period Film
Key Collaborators: Peer Raben (Composer/Producer), Kurt Raab (Production Designer/Screenwriter), Irm Hermann (Character Player), Ingrid Caven (Character Player), Hanna Schygulla (Leading Character Player), Michael Ballhaus (Cinematographer), Thea Eymesz (Editor), Julianne Lorenz (Editor), Gunther Kaufmann (Character Player),

Volker Spengler

(Character Player)
---
Highly Recommended: The Merchant of Four Seasons (1971), Ali: Fear Eats the Soul (1974)*, Fox and His Friends (1975), Berlin Alexanderplatz (1980)*
Recommended: Katzelmacher (1969), Love is Colder Than Death (1969), Gods of the Plague (1969), The American Soldier (1970)**, Why Does Herr R. Run Amok? (1970) [co-directed with Michael Fengler], The Bitter Tears of Petra von Kant (1972)*, Martha (1973), Fear of Fear [TV] (1975), I Only Want You to Love Me [TV] (1976), In a Year with 13 Moons (1978)*, The Marriage of Maria Braun (1978)*, Lola (1981), Veronika Voss (1982)*
Worth a Look: The Little Chaos (1966), Beware of a Holy Whore (1970), Whity (1971), Effi Breist (1974), Mother Küsters Goes to Heaven (1975), Chinese Roulette (1976), Stationmaster's Wife (1977), The Third Generation (1979), Querelle (1982)
Approach with Caution: The City Tramp (1966)

, Despair (1979)
* Listed in TSPDT's 1,000 Greatest Films section; ** Listed in TSPDT's Ain't Nobody's Blues But My Own section.
---
Links: [ Amazon ] [ IMDB ] [ TCMDB ] [ All-Movie Guide ] [ Senses of Cinema: Great Directors ] [ Film Reference ] [ The Fassbinder Foundation ] [ Bright Lights Film Journal Feature ] [ Wikipedia ] [ The Film Journal Article (2006) ] [ Jim's Reviews: The Films of Rainer Werner Fassbinder ] [ Biography/Filmography ] [ GreenCine Article (2007) ] [ The Criterion Collection ] [ Bright Lights Film Journal Article (2011) ] [ Moving Image Source Article (2012) ]
Books: [

A Companion to Rainer Werner Fassbinder

] [ Fassbinder's Germany ] [ Rainer Werner Fassbinder ] [ The Anarchy of the Imagination: Interviews, Essays, Notes ] [ Fassbinder: Life and Work of a Provocative Genius ] [ Rainer Werner Fassbinder: Plays ] [ Chaos as Usual: Conversations About Rainer Werner Fassbinder ] [ Understanding Rainer Werner Fassbinder: Film As Private and Public Art ] [ Rainer Werner Fassbinder and the German Theatre ]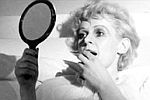 "Fassbinder's most distinguishing trait within the tradition of "counter-cinema," aside from his reputation for rendering fragments of the new left ideology of the 1960s on film, was his modification of the conventions of political cinema initiated in the 1920s and subsequent tailoring of these conventions to modern conditions of Hollywood cinema. He did this to a greater degree than Godard, who is credited with using these principles as content for filmic essays on narrative." - John O'Kane (International Dictionary of Films and Filmmakers, 1991)
"The bare fact is enough: Fassbinder died well short of forty, the maker of at least half a dozen extraordinary pictures: The Bitter Tears of Petra von Kant still has no equal in its simultaneous delight in "style" while pouring acid over the image; Beware of a Holy Whore, Fear Eats the Soul, The Marriage of Maria Braun, and Lola (at least) are outstanding examples of how contemporary history can be focused on the screen in short, tough tales." - David Thomson (The New Biographical Dictionary of Film, 2002)
"One of the finest directors working in the '70s, Rainer Werner Fassbinder ranged widely through genre and style, but consistent through his prolific career (he made over 40 films in 13 years) was an ironic approach towards often melodramatic subjects, and an abiding interest in the despair underlying the material affluence and bourgeois moral conformism of postwar German society." - Geoff Andrew (The Film Handbook, 1989)
"Violence, psychosis, repression, and anxiety fill the work of Fassbinder. He is one of the premier European directors to emerge in the last decade." - William R. Meyer (The Film Buff's Catalog, 1978)
"

The best thing I can think of would be to create a union between something as beautiful and powerful and wonderful as Hollywood films and a criticism of the status quo. That's my dream, to make such a German film.

" - Rainer Werner Fassbinder
Please note that the rating given for this director (see top-right) is based only on the films we have seen (listed above). Films by this director that we haven't seen include World on a Wire (1973), Satan's Brew (1976), and Lili Marleen (1981).
9-
"Rainer Werner Fassbinder was perhaps the best-known director of the New German Cinema, partly because of his aggressive personality and self-destructive lifestyle. Fassbinder was influenced by the French New Wave and the political modernism that intensified in the late 1960s . Beginning as an actor, playwright, and theater director, Fassbinder revealed a taste for grotesque comedy, splashy violence, and strong realism of characters' regional dialects . Yet he rejected the Brechtian theory that was important for Kluge, Straub, and others. He insisted that politically critical art had to engage the spectator's feelings, "With Brecht you see the emotions and you reflect upon them as you witness them but you never feel them… I let the audience feel and think." - Kristin Thompson & David Bordwell, Film History: An Introduction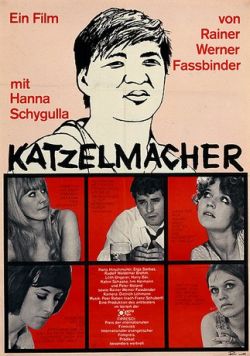 ●
Top 250 Directors
● 100 Essential Directors (Pop Matters)
●
501 Movie Directors: A Comprehensive Guide to the Greatest Filmmakers
See Also
●
Gregg Araki
●
Jean-Luc Godard
●
Todd Haynes
●
Aki Kaurismäki
● Alexander Kluge
●
Edgar Reitz
●
Volker Schlöndorff
●
Douglas Sirk
●
Gus Van Sant
● Paul Verhoeven
● Josef von Sternberg
●
Wim Wenders
Rainer Werner Fassbinder's Favourites
The Damned (1969) Luchino Visconti, Dishonored (1931) Josef von Sternberg, Flamingo Road (1949) Michael Curtiz, Gentlemen Prefer Blondes (1953) Howard Hawks, Johnny Guitar (1954) Nicholas Ray, Lola Montès (1955) Max Ophüls, The Naked and the Dead(1958) Raoul Walsh, The Night of the Hunter (1955) Charles Laughton, The Red Snowball Tree (1973) Vasili Shukshin, Salo, or the 120 Days of Sodom (1975) Pier Paolo Pasolini.