Michelangelo Antonioni
Director / Screenwriter / Editor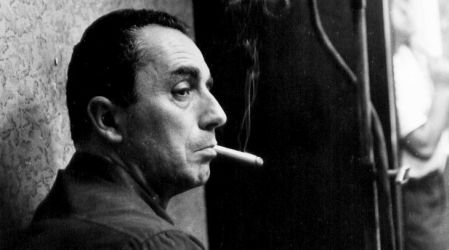 1912 - 2007
Born September 29, Ferrara, Emilia-Romagna, Italy
Key Production Countries: Italy, France
Key Genres: Drama, Psychological Drama, Ensemble Film
Key Collaborators: Tonino Guerra (Screenwriter), Eraldo Da Roma (Editor), Giovanni Fusco (Composer), Monica Vitti (Leading Player), Pierro Poletto (Production Designer), Gianni Di Venanzo (Cinematographer), Carlo Ponti (Producer), , Elio Bartolini (Screenwriter), Carlo Di Palma (Cinematographer), Lucia Bose (Leading Player)
---
Highly Recommended: Story of a Love Affair (1950), Il Grido (1957), L'Eclisse (1962)*
Recommended: The Lady Without Camelias (1953), Le Amiche (1955), L'Avventura (1960)*, La Notte (1961)*, Red Desert (1964)*, Blowup (1966)*
Worth a Look: Zabriskie Point (1970)

*

, Chung Kuo - Cina (1972), The Passenger (1975)*, Identification of a Woman (1982)
Approach with Caution: Beyond the Clouds (1995), Michelangelo Eye to Eye (2004)
* Listed in TSPDT's 1,000 Greatest Films section.
---
Links: [ Amazon ] [ IMDB ] [ TCMDB ] [ All-Movie Guide ] [ Senses of Cinema: Great Directors ] [ Film Reference ] [ Derek Malcolm's Century of Films ] [ Michelangelo Antonioni Archive ] [ Wikipedia ] [ Strictly Film School ] [ 1960 Cahiers du Cinema Article by Antonioni ] [ World Socialist Web Site Article Part I & Part 2 ] [ Guardian Articles ] [ New York Times Article (2007) ] [ Financial Times Article (2007) ] [ The Criterion Collection ] [ Antonioni.com ] [ MUBI ]
Books: [ Michelangelo Red Antonioni Blue: Eight Reflections on Cinema ] [ Michelangelo Antonioni: The Investigation 1912-2007 ] [ Michelangelo Antonioni: Interviews ] [ Antonioni, or, the Surface of the World ] [ The Films of Michelangelo Antonioni ] [ The Architecture of Vision: Writings and Interviews on Cinema ] [ Michelangelo Antonioni ] [ That Bowling Alley on the Tiber: Tales of a Director ] [ My Time With Antonioni: The Diary of an Extraordinary Experience ]



"Antonioni's films are almost plotless, their narrative vagueness almost bordering on mystery. Interest centers on the female, with the male functioning as a catalyst...His reputation rests mainly on his films of the early 60s, truly original works by one of the most remarkable creative artists of the postwar cinema." - (The MacMillan International Film Encyclopedia, 1994)
"It was his association with the actress Monica Vitti in four films - L'Avventura, La notte, L'eclisse and The Red Desert - that brought his work to the attention of a wider international audience, with bleak, fragmentary pictures of characters drifting away from each other, and even from reality. His unique control of camerawork, often moving in long, slow, sometimes circular pans, stamped his work with a highly individual quality of emotional tension." - David Quinlan (Quinlan's Film Directors, 1999)
"At times, his cool, detached observations tend towards abstraction, reducing humans to objects; but in his best work, as in The Passenger, whose stunning, slowly advancing final seven-minute shot shows life in a Spanish village continuing while the reporter is killed off-screen, his bold masterly style transcends pictorial mannerisms to achieve a metaphysical resonance and rigour." - Geoff Andrew (The Director's Vision, 1999)
"

When a scene is being shot, it is very difficult to know what one wants it to say, and even if one does know, there is always a difference between what one has in mind and the result on film

." - Michelangelo Antonioni
"

You know what I would like to do: make a film with actors standing in empty space so that the spectator would have to imagine the background of the characters.

" - Michelangelo Antonioni
Please note that the rating given for this director (see top-right) is based only on the films we have seen (listed above). Films by this director that we haven't seen include I vinti (1953).