Vincente Minnelli
Director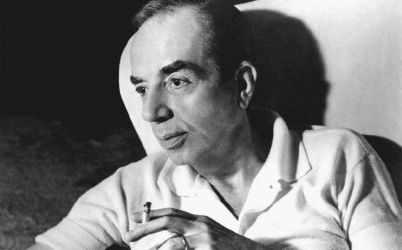 1903 - 1986
Born February 28, Chicago, Illinois, USA
Key Production Country: USA
Key Genres: Musical, Drama, Musical Romance, Romance, Comedy, Musical Fantasy, Musical Comedy, Family Drama, Melodrama, Psychological Drama, Domestic Comedy
Key Collaborators: Cedric Gibbons (Production Designer), Arthur Freed (Producer/Composer), Adrienne Fazan (Editor), Preston Ames (Production Designer), Pandro S. Berman (Producer), Milton Krasner (Cinematographer), Ferris Webster (Editor), George W. Davis (Production Designer), Urie McCleary (Production Designer), Judy Garland (Leading Player)
---
Highly Recommended: The Bad and the Beautiful (1952)*, The Band Wagon (1953)*, Some Came Running (1958)*, Home from the Hill (1960), Two Weeks in Another Town (1962)
Recommended: Meet Me in St. Louis (1944)*, The Clock (1945), Undercurrent (1946)#, The Pirate (1948), Father of the Bride (1950), An American in Paris (1951)*, The Cobweb (1955), Tea and Sympathy (1956), Lust for Life (1956), Gigi (1958)
Worth a Look: Cabin in the Sky (1943), Father's Little Dividend (1951), The Story of Three Loves (1953) [co-directed by Gottfried Reinhardt], Brigadoon (1954), Bells Are Ringing (1960), The 4 Horsemen of the Apocalypse (1962), The Courtship of Eddie's Father (1963)
Approach with Caution: Yolanda and the Thief (1945), Ziegfeld Follies (1946), Madame Bovary (1949), The Long, Long Trailer (1954), Kismet (1955), Designing Woman (1957), The Sandpiper (1965)
* Listed in TSPDT's 1,000 Greatest Films section; # Listed in TSPDT's
250 Quintessential Noir Films section.
---
Links: [ Amazon ] [ IMDB ] [ TCMDB ] [ All-Movie Guide ] [ Senses of Cinema: Great Directors ] [ Film Reference ] [ Queer Modernism: The Cinematic Aesthetics of Vincente Minnelli ] [ Derek Malcolm's Century of Films: The Band Wagon ] [ Henry Sheehan Interview ] [ Wikipedia ] [ GLBTQ Biography ] [ Classic Film and Television Home Page ] [ Moving Image Source Article (2011) ] [ Sight & Sound Article (2012) ]
Books: [ A Hundred or More Hidden Things: The Life and Films of Vincente Minnelli ] [ Vincente Minnelli: Hollywood's Dark Dreamer ] [ Vincente Minnelli: The Art of Entertainment ] [ The Films of Vincente Minnelli ] [ The Death of Classical Cinema: Hitchcock, Lang, Minnelli ] [ I Remember it Well ] [ Directed by Vincente Minnelli ]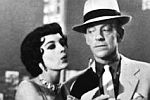 "Minnelli's career presents great problems as soon as one looks beyond that initial fondness. Do the fragments come together? Do those melodious camera movements, the most inventive conception of background action, and such ceaseless use of color, costume, and sets make him a major director? Or is he a stylist, unconcerned with subject matter, for years content to film whatever material MGM assigned him. Certainly, the loyalty to one studio seems to have been borne without the agonies that beset, say, Nicholas Ray." - David Thomson (The New Biographical Dictionary of Film, 2002)
"We must certainly categorize Minnelli as something more than a decorative artist, for the stylistic devices of his films are informed with a remarkably resilient intelligence. Even if we are finally to conclude that, throughout his work, there is a dominance of style over theme, it ultimately serves only to confirm his contribution to the refinement of those techniques by which Hollywood translates meanings into style and presents both as entertainment." - Ed Lowry (International Dictionary of Films and Filmmakers, 1991)
"If he has a fatal flaw as an artist, it his his naïve belief that style can invariably transcend substance and that our way of looking at the world is more important than the world itself. Critic-film-makers like Godard and Truffaut pay lip service to these doctrines, but they don't really believe them. Only Minnelli believes implicitly in the power of his camera to transform trash into art, and corn into caviar. Minnelli believes more in beauty than art." - Andrew Sarris (The American Cinema, 1968)
"A brilliant director of musicals who brought a unity of song and drama to the screen in the 1940s, Minnelli is also adept at garish, frequently penetrating dramas. He has one of the best moving cameras in Hollywood." - William R. Meyer (The Film Buff's Catalog, 1978)
"

Having started as a designer I have a lot to do with settings and costumes, because I think they relate to the story and character, explain it.

" - Vincente Minnelli
Please note that the rating given for this director (see top-right) is based only on the films we have seen (listed above). Films by this director that we haven't seen include
I Dood It (1943), The Reluctant Debutante (1958), Goodbye Charlie (1964), On a Clear Day You Can See Forever (1970), and A Matter of Time (1976).
9-
"Minnelli's films, especially his melodramas, have been the focus of attention for film theorists for a variety of reasons. For some, the rhetoric of Minnelli's musicals exemplifies the stylistic and narrative strategies of the genre; while for others the filmic devices of both Minnelli's musicals and his melodramas demonstrate repressed ideological conflicts and tensions that erupt at moments of high drama through music and mise-en-scène. From this perspective, the films may be read through recourse to the psychoanalytic concept of conversion hysteria, which accounts for the excessive and stylized quality of Minnelli's work. For still others, Minnelli stands as a good example of the distinction between the auteur, whose work possesses and is governed by a consistency of artistic vision, and the stylist or metteur en scène, the category that Andrew Sarris claims Minnelli typifies." - John Mercer, Schirmer Encyclopedia of Film
●
Top 250 Directors
●

The Far Side of Paradise
● 100 Essential Directors (Pop Matters)
●
501 Movie Directors: A Comprehensive Guide to the Greatest Filmmakers
See Also
●
Lloyd Bacon
●
George Cukor
●
Jacques Demy
●
Stanley Donen
●
Stanley Donen & Gene Kelly
●
Walter Lang
●
Joshua Logan
●
Joseph L. Mankiewicz
●
Richard Quine
●
George Sidney
●
Douglas Sirk
●
Charles Walters