Satyajit Ray
Director / Screenwriter / Composer / Producer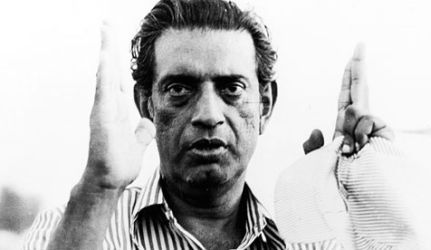 1921 - 1992
Born May 2, Calcutta, West Bengal, India
Key Production Country: India
Key Genres: Drama, Psychological Drama, Family Drama, Rural Drama, Comedy Drama, Urban Drama
Key Collaborators: Dulal Dutta (Editor), Bansi Chandragupta (Production Designer), Soumitra Chatterjee (Leading Player), Subrata Mitra (Cinematographer), Soumendu Roy (Cinematographer), Anil Chatterjee (Leading Player), Chhabi Biswas (Leading Player), Victor Banerjee (Leading Player), Sharmila Tagore (Leading Player), Ravi Shankar (Composer)
---
Highly Recommended: Aparajito (1956)*, The Music Room (1958)*, The World of Apu (1959)*, Charulata (1964)*
Recommended: Pather Panchali (1955)*, Kanchenjungha (1962), The Big City (1963), Days and Nights in the Forest (1970)*, Distant Thunder (1973), Pikoor Diary [TV] (1981)
Worth a Look: Devi (1960), Rabindranath Tagore (1961), Two Daughters (1961), Siddhartha and the City (1970), The Chess Players (1977), The Home and the World (1984)**, The Branches of the Tree (1990)
* Listed in TSPDT's 1,000 Greatest Films section; ** Listed in TSPDT's Ain't Nobody's Blues But My Own section.
---
Links: [ Amazon ] [ IMDB ] [ All-Movie Guide ] [ Senses of Cinema: Great Directors ] [ Film Reference ] [ Satyajit Ray.org ] [ Satyajit Ray Film & Study Collection ] [ Wikipedia ] [ Manas Biography ] [ Guardian Unlimited Article ] [ Upperstall Profile ] [ Calcutta Web Profile ] [ The Satyajit Ray Foundation ]
Books: [ Cinema, Emergence, and the Films of Satyajit Ray ] [ Satyajit Ray: Interviews ] [ The Cinema of Satyajit Ray: Between Tradition and Modernity ] [ Satyajit Ray ] [ Satyajit Ray: A Study of His Films ] [ Satyajit Ray: A Vision of Cinema ] [ Best of Satyajit Ray ] [ Satyajit Ray: The Inner Eye: The Biography of a Master Film-Maker ] [ Our Films Their Films ] [ Satyajit Ray: Beyond the Frame ]



"From the beginning of his career as a filmmaker, Satyajit Ray was interested in finding ways to reveal the mind and thoughts of his characters. Because the range of his sympathy was wide, he has been accused of softening the presence of evil in his cinematic world. But a director who aims to represent the currents and cross-currents of feeling within people is likely to disclose to viewers the humanness even in reprehensible figures." - Satti Khanna (The St. James Film Directors Encyclopedia, 1998)
"His reputation rests firmly on his detached, unsentimental humanism, and on an ability to derive subtle emotional nuances and ironies from a simple but effective marshalling of performance, dialogue, decor and composition. He has been his own scriptwriter, designer, composer and cameraman on many of his films; he is a consummate artist whose faith in the cinema as a medium to rank alongside the other art forms remains undimmed." - Geoff Andrew (The Film Handbook, 1989)
"Ray maintained a high artistic level in most of his subsequent films but found it impossible to match the authenticity, sincerity, beauty, and magic of the Apu trilogy. At the same time, Ray's later output boasts a bolder, more complex style and a sharper, more pointed voice. Above all, he sustained throughout his career the humanist values that have made his films universally appealing." - (The MacMillan International Film Encyclopedia, 1994)
"Has compassionately documented his people and culture for the world to see. This director essentially examines the social, political, and religious strata in Indian society." - William R. Meyer (The Film Buff's Catalog, 1978)
"

When I'm shooting on location, you get ideas on the spot - new angles. You make not major changes but important modifications, that you can't do on a set. I do that because you have to be economical.

" - Satyajit Ray
Please note that the rating given for this director (see top-right) is based only on the films we have seen (listed above). Films by this director that we haven't seen include An Enemy of the People (1989) and Agantuk (1991).
8
"No other film-maker, apart maybe from Kurosawa (though his depiction of women is notably inferior to Ray's), has encompassed a whole culture; and no other film-maker, full stop, has covered such a range, from pure farce to high tragedy and from musical fantasies to detective stories. Satyajit Ray, whatever some superficial or ignorant critics may say, is not primarily the maker of the Apu Trilogy. I fear that his range may never be fully understood, given that the films describe Bengal, which (unlike Japan) is of little political, economic or cultural importance to the world – and in a language unknown even to most Indians. But I hope his extraordinary diversity may gradually sink in, as his work at last becomes widely available on video and DVD." - Andrew Robinson, Satyajit Ray: The Inner Eye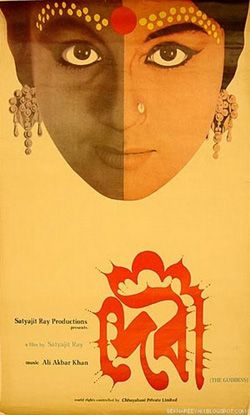 ●
Top 250 Directors
● 100 Essential Directors (Pop Matters)
●
501 Movie Directors: A Comprehensive Guide to the Greatest Filmmakers
See Also
● Wes Anderson
●
Ingmar Bergman
●
Vittorio De Sica
●
Ken Loach
●
Deepa Mehta (External Link)
●
Mira Nair
●
Jean Renoir
●
Roberto Rossellini
●
Mrinal Sen
●
Giuseppe Tornatore
●
François Truffaut